EnerGrow is a tech start-up growing sustainable, productive, rural electricity demand in Africa, through an innovative mix of productive asset financing, training and digital ID based technology.
Create a digital profile for all customers
Collate data from disparate sources and use bespoke algorithm to create credit scores
Provide Financial literacy and Business Support Training.
Provide financial services and productive asset financing
Provide rural customers with low interest rates on financing
Offer business in a box, and financial literacy training to customers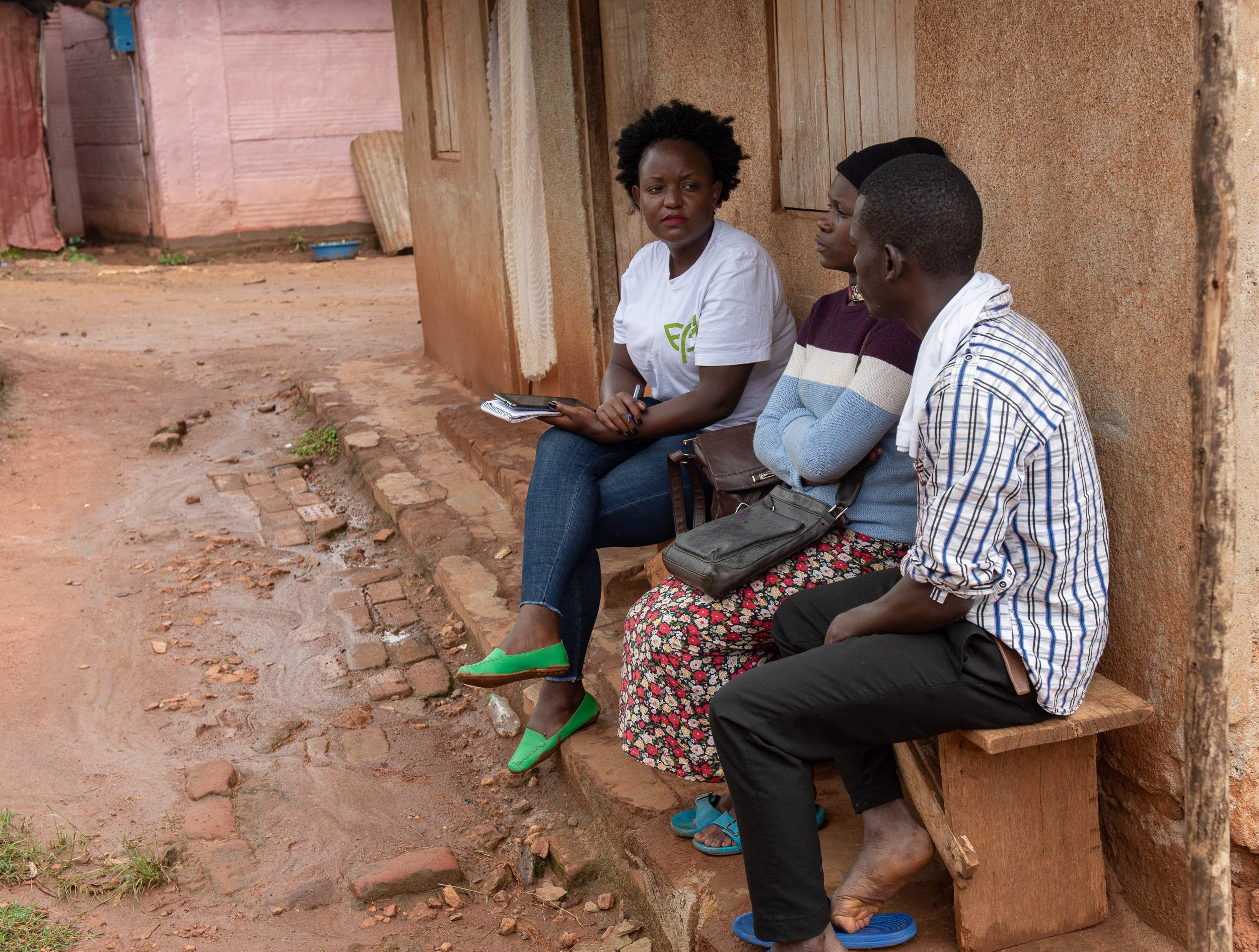 EnerGrow's mission is to revolutionise Africa's rural communities by financing customers to unlock local productivity and increase energy demand.
EnerGrow's vision is for universal access to energy in sub-Saharan Africa to be demand driven by productive energy uses, providing sustainable, economic and social benefits for households and businesses.
Our Strategy
EnerGrow improves the profitablility of electricity distribution companies by financing consumer assets that increase energy consumption, ability to pay, and economic output.
The Problem
Newly electrified communities in Africa do not have access to income generating or livelihood improving electrical appliances that would make them economically viable to energy providers
This means that communities rarely exploit productive energy and, consequently, energy access initiatives are seldom bankable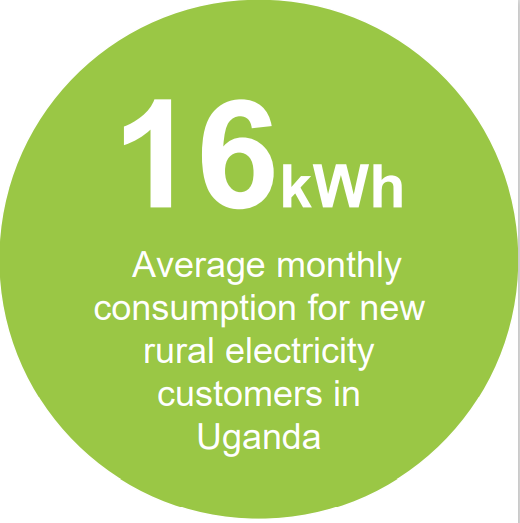 The Solution
Partnering with utilities and minigrid operators, EnerGrow's platform uses existing data to identify entrepreneurs that require business asset financing and selects for eligibility through data-driven credit profiling.
EnerGrow provides a catalogue (initially 5-6 assets*) of comprehensive "business-in-a-box" solutions to customers at the cheapest possible rate, including:
An energy-utilising productive asset
Working capital (where needed)
Financial literacy & business training
Initial catalogue caters to tailoring, carpentry, welding, retail shops and restaurants.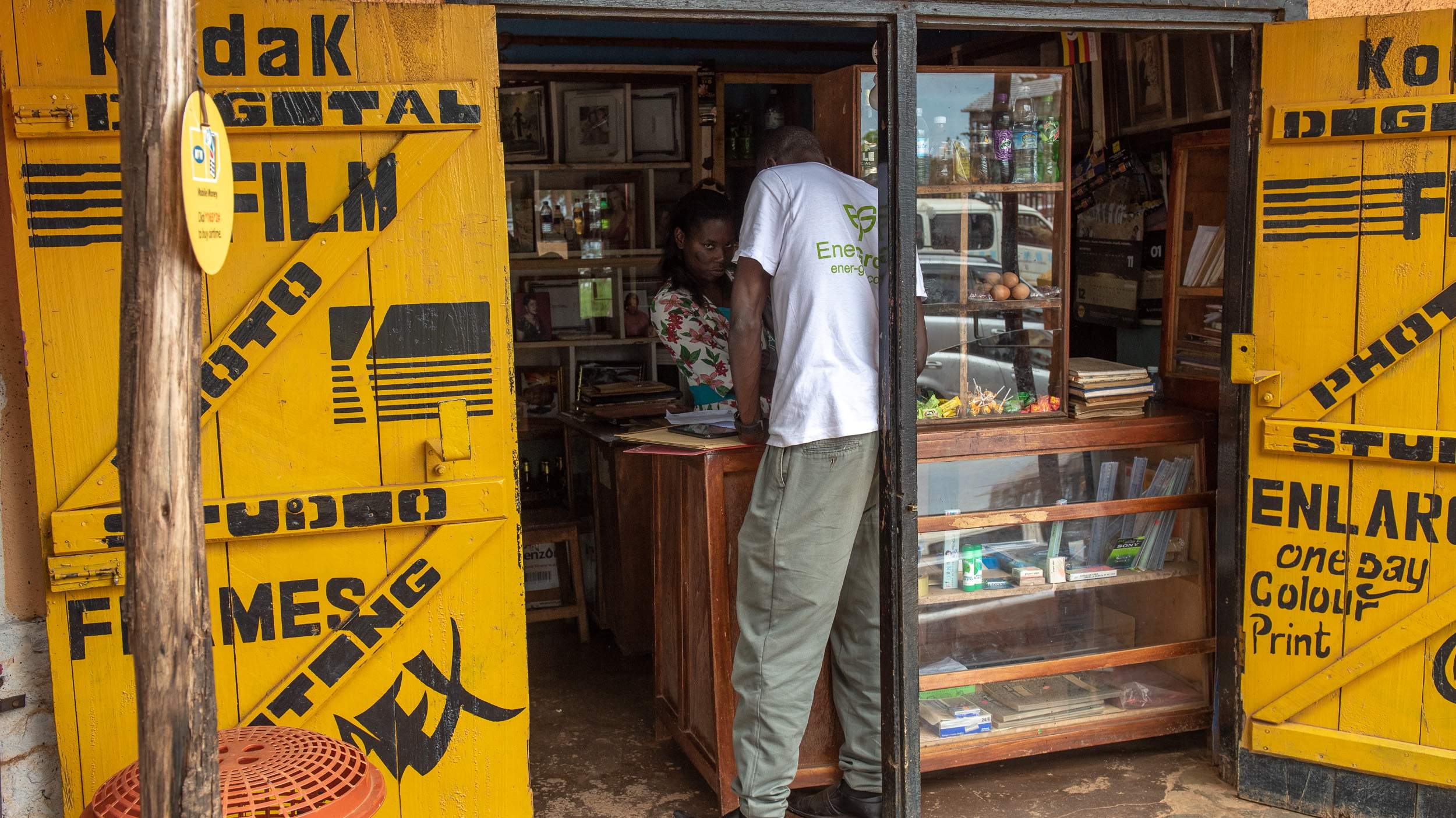 EnerGrow's Market
10% of Ugandans started a new business in the last year

Each year an additional 4,000,000 businesses are started - without support, nearly all fail
86% of businesses surveyed want additional productive energy appliances
7.3m households in Uganda

95% would save money with an electric pressure cooker
By 2030 there will be 130,000,000 businesses across Africa that are potential customers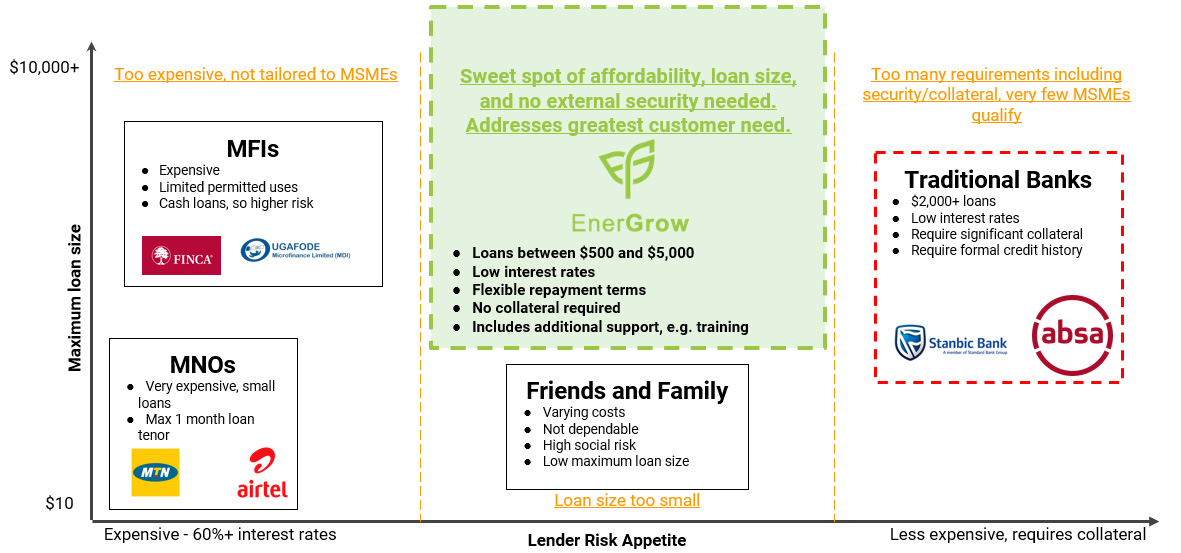 Services
EnerGrow provides productive energy asset financing and training to small businesses in Uganda.
Asset Financing
---
EnerGrow provides loans to micro, small and medium businesses (MSMEs) and households for assets or appliances valued between $50 and $5,000, over a period between 6 months and 3 years.
EnerGrow uses new data sources and automated credit scoring to reduce its credit risk and scale its solution across regions quickly.
Training
---
EnerGrow's team has provided training to more than 4,000 small businesses in Uganda, surveyed thousands of customers and has more than 25 years combined experience delivering projects in East Africa.
EnerGrow offers business in a box, and financial literacy training to customers.
Why EnerGrow
EnerGrow offers appliance financing and training to help your business grow and make you more money.
01
Flexible payment options, no security needed
02
Affordable, high quality machines
03
Increase your sales and reduce costs
04
Learn skills to grow your business quickly
We have:
50
+ Businesses Signed Up
We have:
200
+ On the waiting list
Deployed USD:
200,000
in 2020
Products
Products
New products added all the time! Let us know what you'd like to see here!
All
Carpentry
Metalwork
Restaurant/Retail
Tailoring
Our Team
Energrow's management team is ready to Dramatically scale the business.
Edwin Kwesiga
Managing Director
Siraje Kamugisha
Senior Operations Manager
Lucy Oxby
Head of intelligence and strategic projects
Gladys Hoffman
Finance,Accounting and Audit
Aggrey Kintu
Senior Credit Manager
F.A.Q
F.A.Q
Frequently Asked Questions
Our Address
Ark House, Plot 52 Kanjokya Street, Kampala